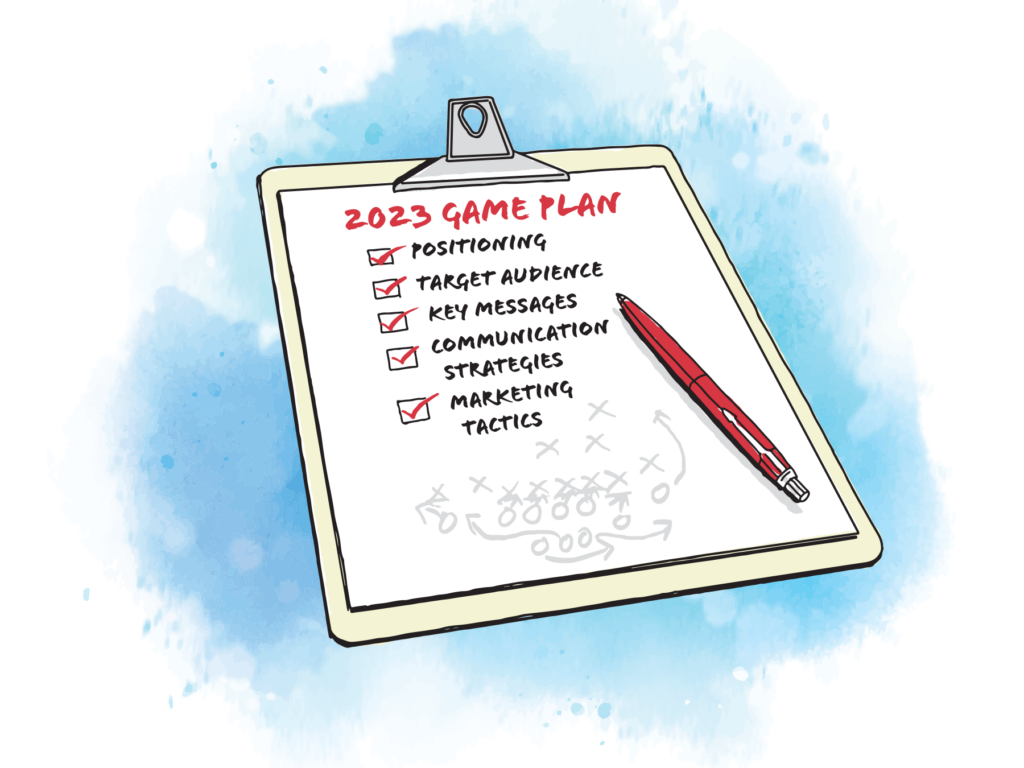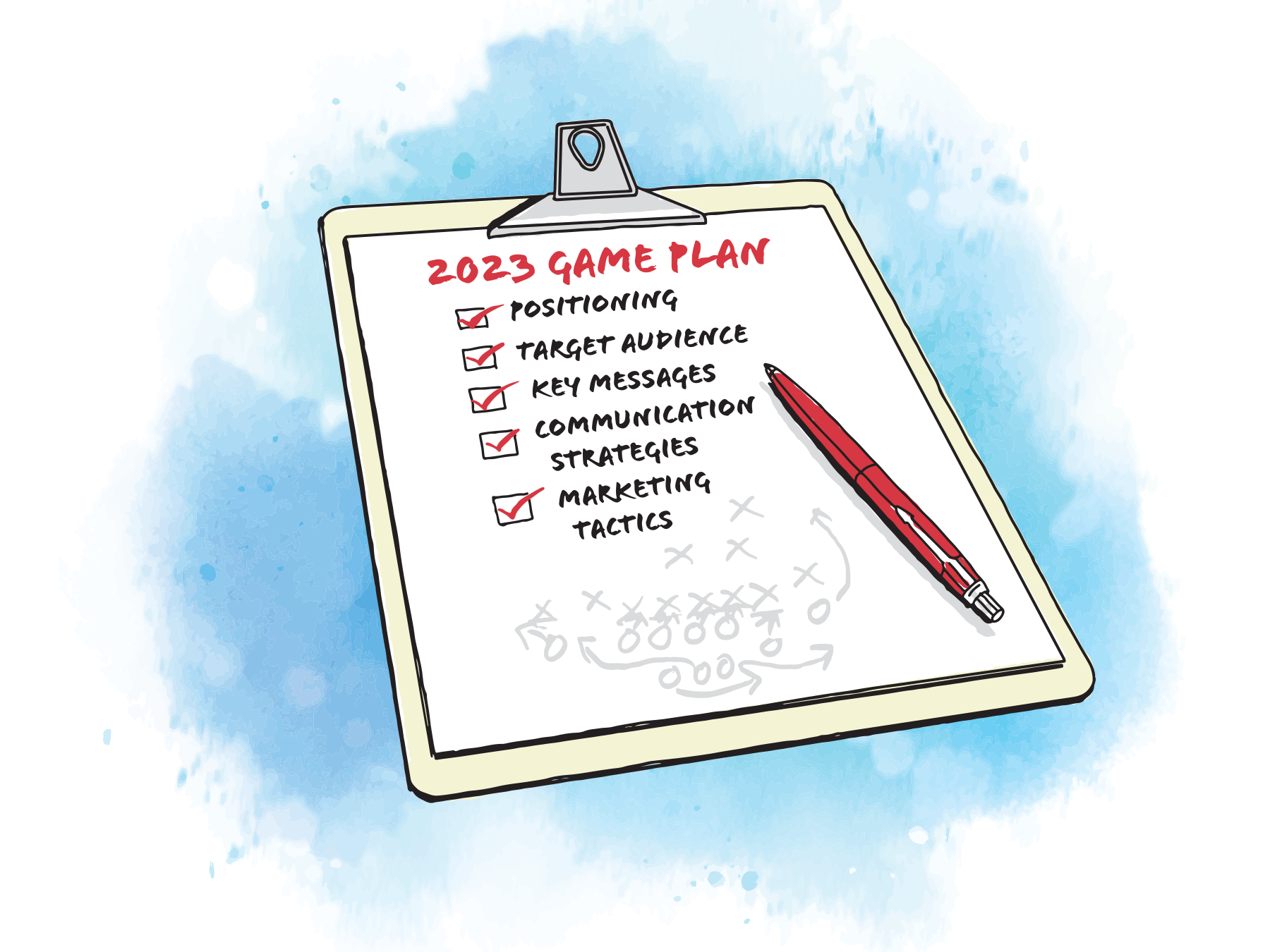 Is it really possible that 2023 is almost here? And though more things are back to normal, there are still new challenges and uncertainties–as well as opportunities– ahead.
What are the emerging trends and needs in public safety? And what can brands that support the industry do to prepare? These are the kinds of things marketing leaders need to consider in order to develop an effective marketing plan for 2023—one founded on a firm understanding of the industry landscape and an intimate knowledge of your target audiences. 
To help you strategize marketing activities for the year ahead, we've developed a set of questions and priorities to guide your thinking through the planning process.  
Do You Have a Communication Strategy to Build Your 2023 Marketing Plan Around?
A good marketing plan culminates with the tactics that can best accomplish your communication and business goals. In order to get the most out of the tactics you choose to execute, they need to be part of a larger, comprehensive communication strategy. 
With that in mind, before you get into the specifics of tactical planning for next year, review and nail down yourmarketing communication plan. It's the foundation upon which all of your subsequent marketing activities will rest. 
If you don't know what a communication plan is or what, exactly, should go into it, here are some of the building blocks we use to develop one:
Positioning

: Communicates what an organization stands for and why someone should engage with it. In other words, what you want your audience to say about you when you're not in the room.   

Target Audience

: Typically individuals with purchasing power or influence over operational decisions 

Key Messages

: Information about your brand/product/services 

Communication Strategies

: The 30,000-foot view of the most effective way to accomplish longer-term outreach goals 

Marketing Tactics:

How you'll put the strategies into action; specific activities to accomplish communication strategies (think microsite, eblasts, case studies, etc.)
Your strategy should also include metrics against which you will measure success. 
Is It Time to Update Your Strategy?
A communication strategy helps to serve as a roadmap for the year ahead. As a result, it's important to be deliberate in how you approachupdating these plans to ensure they're still current in reflecting the latest audiences you want to reach and the products/services you hope to sell them. Though you may not be excited to hear this, you can't just dust off last year's plan. These questions can help you identify what kind of communication plan updates are needed, if any: 
What

new trends

are shaping the operational mindset in public safety? 

What new realities are public safety leaders facing, and does your messaging speak to these? (More on that below)

Have any new competitors entered the market? Have existing ones left? Has your company seen changes in market share?

Has your product mix changed? Do new products or features offer opportunities for new messaging? 

How have your target audiences responded to your current positioning? 

Are there new influencers (internal or external) who hold sway over your target audience?
Answering these and other probing questions will give you a snapshot of the business landscape and how your communication plan should be updated to ensure it's still relevant and actionable. 
What Realities Are Public Safety Leaders Facing Right Now?
Answers to the questions above won't always be readily apparent; you'll likely need to do some digging to confirm the most pressing issues that concern the public safety leaders and practitioners you're trying to reach. 
Researching relevant industry media websites and associations can serve as a good pulse check. Take inventory of the topics covered in the latest articles, podcasts, white papers and webinars to get a better handle on the trends affecting your audiences now. 
Remember, too, to leverage your internal teams to gather anecdotal intel. Ask your sales and customer service teams how they see the coming year playing out and why. How do the observations from your internal teams align with other data you've gathered about what's happening in the industry? 
You can also harvest insight from existing customers by asking what they're dealing with and what challenges they anticipate in the year ahead. And for those who are willing to help, you could get very specific and ask them about your marketing efforts: What would they like to see more or less of? Is there messaging that could be more clear? How do they perceive you in comparison to your competitors? 
Holding these all-important conversations will allow you to identify any new concerns as well as opportunities to meet your customers where they are right now.  
What Should You Start/Stop/Keep Doing?
In addition to research and interviews, a deep dive into analytics should be a natural part of your 2023 planning. Figuring out what's working well (and why) is important, but so is determining which approaches you want to sunset and new things you'd like to try in the new year. For instance, you may want to commit more resources to content development: Asurvey of B2B content marketers by ON24 found that 61% want to focus on creating content for different stages of a buyer's journey and half said they hope to better align content efforts across sales and marketing in 2023. More than 70% saidcontent marketing will be more important in the new year than in 2022.
So, be willing to think differently and question the status quo. Consider testing out a new tactic to see how your audience responds. There may also be good reason to stay the course with ongoing programs, perhaps just freshening up their packaging. And, again, input from your customers and sales team can be of tremendous value here. In fact, you may want to schedule regular check-ins with your sales team for just this purpose.
Those personal perspectives can help validate your data—or challenge it. Using both quantitative and qualitative (customer and sales perspectives) data will help you find the right mix of strategies and tactics.
How Will You Remain Flexible and Responsive to a Changing Marketplace?
No one can predict what will happen in 2023, so allow some room to pivot should changing circumstances require a shift in approach. To that end, consider drawing up "good, better, best" plan options, with budget constraints matching appropriate business conditions and a mix of strategies and tactics optimized for each scenario. Even if you begin the year implementing tier I, you know you can pull another tier off the shelf to implement if needed. You might find thisEbook on budgeting for uncertain times helpful in thinking through this. 
Another way to weave flexibility into your planning: Rather than plan out the full year, consider parsing it into halves or quarters instead. This allows you to execute on the next sprint of work and reassess to apply learnings and any shifts in the state of the world to the next quarter or six months. 
Don't forget, though, to continue analyzing incoming marketing data and customer/sales feedback; this will enable you to keep an ear to the ground and alert you of changes emerging in the marketplace. That early-warning system helps you know when and how to adjust your approach.  
We all know there are no crystal balls. But that doesn't mean you shouldn't plan. In deciding on your marketing strategy and tactics for 2023, prioritize flexibility and make sure your overarching communication strategy aligns with the current reality your public safety audiences are dealing with right now.