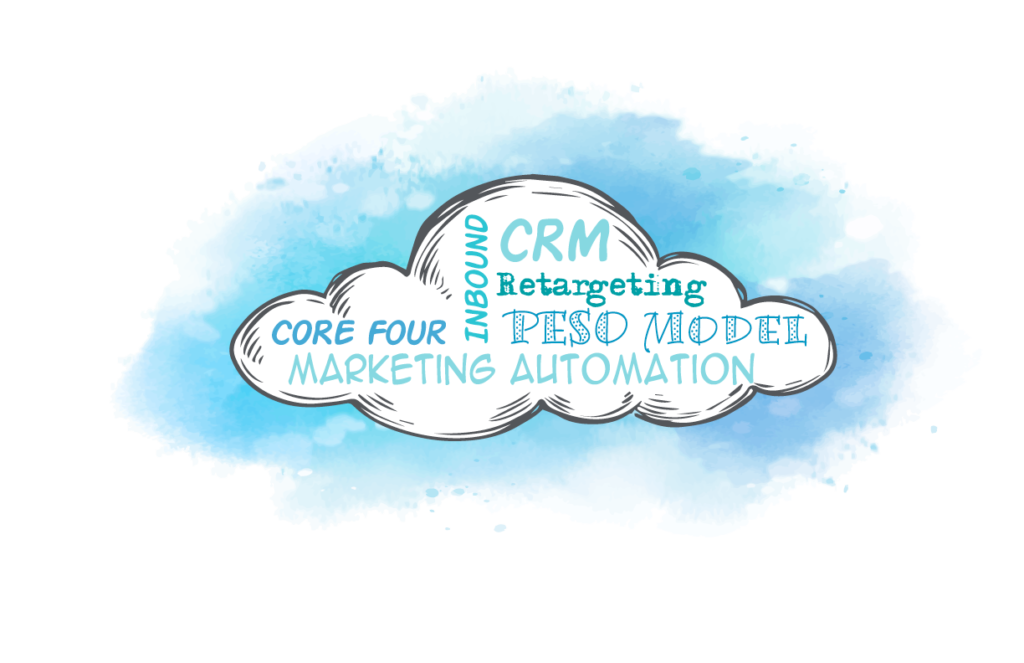 It's easy in tough economies to want to bypass strategy and go straight to tactics. That's a sure-fire way to waste money. It's vital to have a comprehensive marketing plan in place so you don't waste effort on 1) going in the wrong direction and 2) spending on marketing tactics that are not complementary or additive to overall goals.
In other words, having a communication plan will make sure that the finite resources, talent and energy you expend can be repurposed, reused and redeployed. For example, your strategy may be to gather compelling customer stories/case studies. Once you have them, you can use them in myriad ways—on your website, emails, social, videos, webinars, etc.
Your marketing plan should be a blend of top-of-funnel tactics versus lead generation. Determine where you're going to put your emphasis and resources.
Once you have the strategy in place, your first move and spend should be on digital.
Digital is more quantifiable, so it makes sense to focus efforts here if you have limited funds or need to drive lead generation to support sales. With less spending on traditional marketing (e.g., conferences and events) you may have additional room to focus on digital.
Your public safety marketing plan needs an integrated digital approach
Does your inbound marketing (methods you use to draw visitors and potential customers) take advantage of all available channels, like social, videos, etc.? Where are you weak? How can you leverage what you're already doing? Where are your greatest opportunities?
One valuable framework is called the PESO model, which comes from the 2014 book Spin Sucks by Gini Dietrich. PESO is made up of Paid, Earned, Shared and Owned, and is a way to segment and organize your marketing channels. This is a great guide for digital marketing budget planning and execution.
Here's a description of each area, as published on the site Iterative Marketing:
Paid: Exchanging money for distribution, whether an ad or content
Earned: Trading valuable content for an established authority's audience
Shared: Amplifying content through your own audience
Owned: Aggregating an audience that seeks you out for content and then distributing your content to that audience
The illustration is super useful.
Using the PESO model as a guide will help you think through the key segments, channels and platforms at your disposal.
Why the 'Core Four' should be core to your digital efforts
Especially in the worst-case scenario, you're going to need some minimum marketing at the lowest price. We think the recommendations in the book The CEO's Digital Marketing Playbook, by Thomas J. Donohoe, give great guidance on what you should be doing at a minimum (really, in any scenario). Again, this can be a good guide on what to prioritize in your budgeting and planning.
1. Tradename search engine advertising on Google
This ensures prospective customers can easily find and get to you. For minimal dollars, you can ensure you're not missing any prospects who are looking for you. Obviously, the next step is to purchase other keywords, which is also recommended.
2. Retargeting ads
Retargeting your prospects across the websites they visit is a simple way to make sure your message is seen by your best potential customers. This is also a great way to "recapture" those interested prospects that intended to purchase, but got busy or distracted and just never followed up.
3. Landing pages
You want to drive people to product-specific pages they're interested in—not your homepage where you make them work too hard. Wasting your inbound traffic by making people click on multiple pages is a great way to scare off your best prospects. Also, if you have gated forms (requiring registration before downloading a white paper, Ebook, etc.), make sure those are located on direct landing pages and drive traffic there.
4. Smarter Social Media
You've been cultivating your customer and prospect list for years. You can put that list to work via LinkedIn and Facebook targeted campaigns. You'll upload your list and be able to better target right-fit prospects.
The Core Four is also a good guide to use in your budget planning and execution. Each area is easily trackable and measurable, so you can assess performance and switch gears if needed.
Do you have the right tech to support your digital efforts?
As you build your digital efforts, you'll also need to consider technology and platforms in your budgeting. Do you need technology or platform enhancements? If you have staffing resources available, now may be a good time to consider upgrading your digital marketing technology.
Weigh the pros and cons of a completely integrated platform (like Salesforce) versus a la carte, best-of-breed solutions. Areas you should consider and plan for in your budgeting efforts are:
CRM (Customer relationship management) platform

Measurement/metrics tools

Content platforms

Marketing automation

Social media tools
You need to consider staffing and outsourcing to drive your digital
Obviously, staffing levels and outside contractors are a key element of your budgeting and planning. In worst/mid-case scenarios, you may be working to justify certain positions. Keep in mind that those positions that keep your brand front and center in the minds of public safety officials—the ones that drive your digital efforts and lead generation—are key to keeping your sales engine running.
Your scenario planning should take staffing and outsourcing into consideration. If you're considering outsourcing/contracting marketing and communications, make sure what you budget for that support is separate from your direct marketing expenses (e.g., advertising, events, SEO/SEM, etc.)
Make sure you have the right approach and know how to evaluate outside firms that specialize in marketing, communications and digital.
If you're not already well on your way with digital marketing, we hope you'll at least get started with some of the options and tips above. Good luck and let us know if you have tips to share.