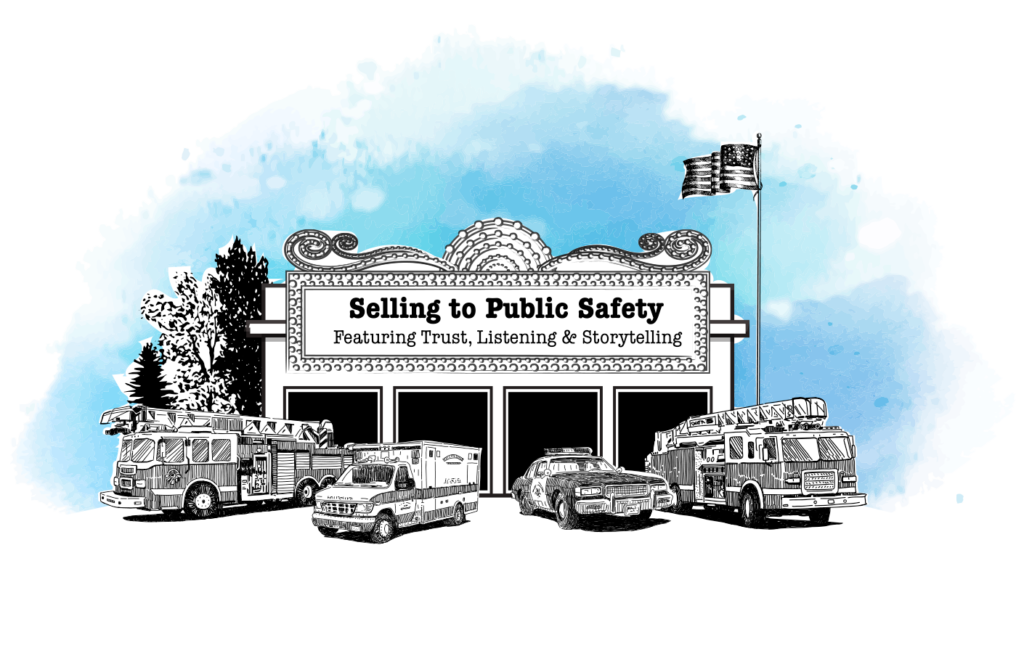 Selling to public safety professionals is much the same as selling to any other industry. But there are some key differences. Knowing the differences, we've learned over the years, makes all the difference.
There are three key things you want to get right as you develop your sales approach with law enforcement, the fire service, EMS, 911 and related fields:
Build your brand trustworthiness
Lead with listening
Share a compelling story
Be Trustworthy.
Public relations and marketing firm Edelman has devoted a lot of time to studying trust, calling it "the ultimate currency in the relationship that all institutions…build with their stakeholders." It's true. You can't put a price on clients' belief in your reputation and credibility.
Every year, the firm produces its "Edelman Trust Barometer," a survey taken by tens of thousands of people around the world. You probably won't be surprised to hear that 2021 report found that the pandemic fueled fear and distrust about the economy, job loss, media, politics and beyond. But when compared to government, media and NGOs, business emerged as the institution with the highest trust index these days. With so much upheaval and uncertainty in recent months, that makes now an even better time to fortify your customers' belief in your company.
How do you do that? By sharing your expertise and showing your customer-service orientation, reliability and integrity every chance you get. When your brand communicates trustworthiness, prospects see you as genuine and honest—and that makes it much easier for your sales team to reach potential clients.
Be a Great Listener.
If there's one thing that police and fire chiefs, 911 directors, EMS chiefs and government CIOs hate, it's feeling like they're being sold to. But if your salespeople start conversations by truly listening and learning—with the objective of developing real understanding—you'll be ahead of the pack.
Through genuine curiosity and asking the right questions, you can uncover the unique pain points and challenges a public safety leader is facing. A fire chief may be concerned about dwindling municipal funding that's leaving his firehouse understaffed and unable to update their communications technology. By being an active listener, you ensure that whatever you're offering is in fact aligned with his needs. And if it's not this time, when you do have a product or service to meet the chief's need, he's a lot more likely to take your call.
If you don't know the specific industry you're focusing on well, do some homework ahead of meeting with a prospect. For instance, the National EMS Management Association and Fitch & Associates produce an annual "EMS Trend Report" that distills responses from thousands of EMS professionals at all levels of the profession, from new responders to dedicated medical directors. The National 911 Program also produces an annual report in collaboration with the National Association of State 911 Administrators (NASNA) and so do the National Police Foundation, among others.
Be a Compelling Storyteller.
So, your brand conveys trust and your sales rep asks great questions. Now you need to show how your solutions can help. To do that, you need a compelling story.
In public safety, the best stories are real-life stories. They're relatable, clear and concrete. So start by sharing specific problem/solution cases straight from your customers. Peer-to-peer referrals and testimonials are like gold to public safety officials; they want to know how your solution has helped others in similar situations. If possible, you might even follow up with more details or a video that helps tell the story.
We recently worked closely with the California Department of Emergency Services (Cal OES) for a National 911 Program project on California's transition to Next Generation 911 (NG911). We created a case study to share California's story for a couple of key reasons: First, almost no state is as big and complex as the Golden State. With 437 PSAPs and 58 counties, there's natural drama and tension in telling their tale: How in the world did they tackle such a complicated task? What did they do right? What didn't go so well?
We had to ensure, too, that the lessons learned by California would be applicable to other, much smaller states (in other words, our story had to resonate no matter who was "hearing" it). The goal of the case study was to make sure that states, regions, agencies and even communities who are overwhelmed or confused by their own transition to NG911 would find key takeaways they could apply themselves. The message of this story was that the upgrade was doable—and here's how you can get started, no matter what stage you're at.
For more insights and ideas, check out the RedFlash Group's Marketing & Communications Effectiveness Guide.