What does your sales team need to be successful in selling to public safety?
Well, there are a lot of things you need to have in place to do this well, but here are the three things we at the RedFlash Group know are constants:
A trusted brand

Authentic listening

A compelling story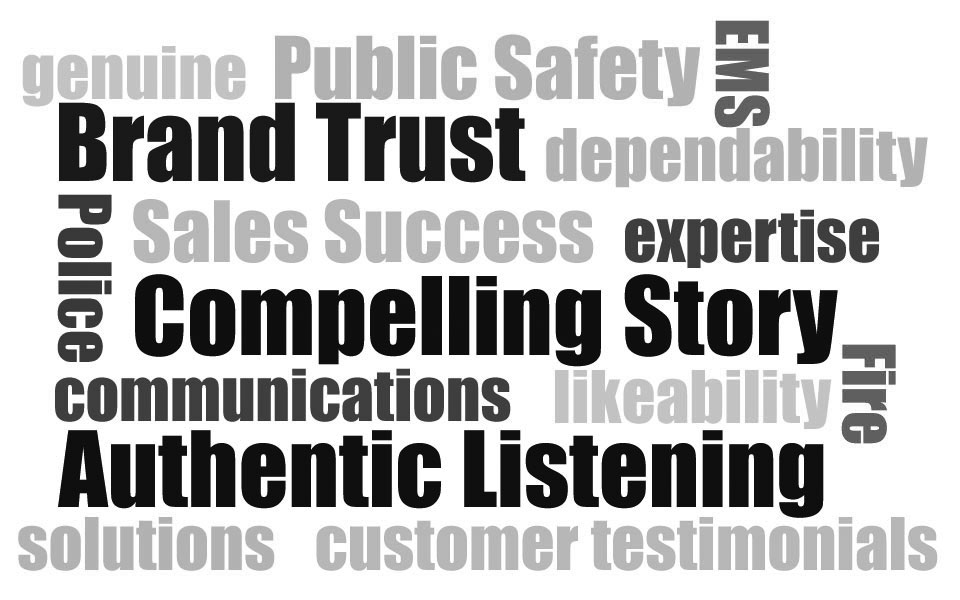 Trusted Brand
As we shared in our Insights article "Why Trust Matters So Much," you build trust by focusing on attributes, including expertise, customer orientation, likeability and dependability. The trust that your brand communicates is what will get your salesperson through the door (or on the phone, Zoom, WebEx, etc.). That trusted brand will feel genuine, authentic and real. Your positioning and messaging should convey these feelings, as well.
Authentic Listening
What do police and fire chiefs, 911 directors, EMS chiefs and government CIOs all despise? Feeling like they're being sold to. But if your salespeople lead with listening and learning – and with the objective of developing real understanding – you'll be ahead of the pack. Through curiosity and questioning, your people can uncover the unique pain points and challenges every public safety leader is facing. And guess what? Your solution may be right, but it may not be. Maybe what's needed is something entirely different. Maybe your organization can provide that, or maybe not. Either way, by being a good listener your salesperson's calls will be taken by those public safety officials when the need and timing is right.
A Compelling Story
So your brand conveys trust and that opens the door, and your sales rep asks great questions and uncovers the real challenges and needs. Now you need to share how your solution can help. To do that, you need a compelling story. In public safety, the best stories are real-life stories. They're relatable and concrete—they're NOT theoretical or unnecessarily complex. Instead, share specific problem/solution cases straight from your customers. Peer-to-peer referrals and testimonials are like gold to public safety officials. They want to know how your solution has helped others in similar situations. That's the story they need and want to hear. A follow-up with a written or video case study will go a long way in helping your prospective customer get buy-in within their agency.