Why you need to trust your marketing team and when to get involved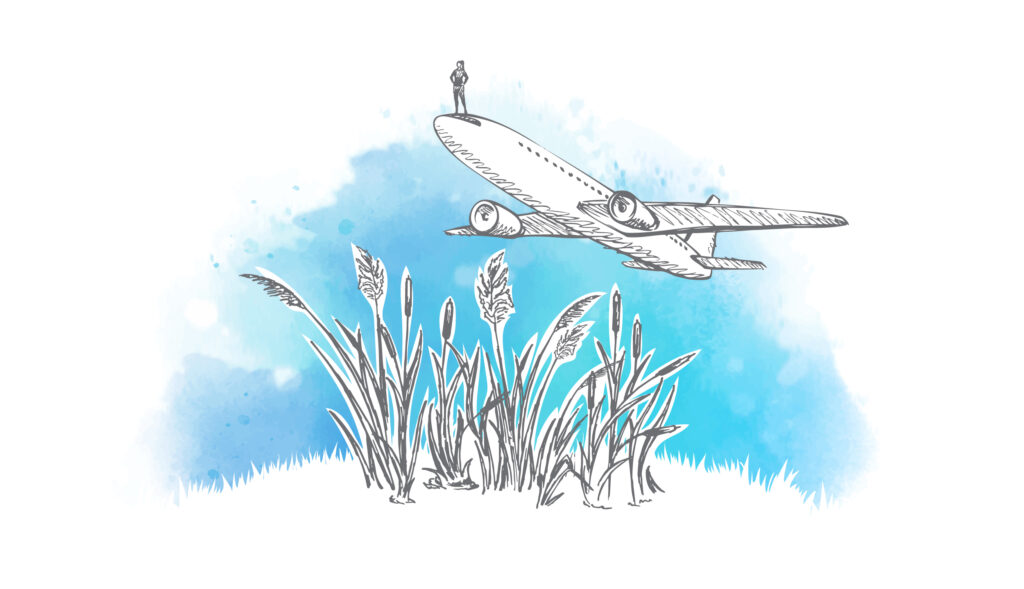 Bet you haven't heard that in a while. Though the smell of jet fuel and the sound of takeoff isn't something most of us have experienced in some time, we suspect those familiar words of reaching cruising altitude may still give you a sense of ease. Reminding you of a not-so-distant time when they meant you could boot up your laptop to start chipping away at those emails, loosen the safety belt, finally use the bathroom, and maybe order a beverage that you know will make said emails slightly less painful.
Today, we're proposing those words offer a different kind of relief – giving you the freedom/motivation you need to spend more time delegating marketing decisions and stay (as often as you can) at that 30,000-foot view.
As your organization's leader, you know you shouldn't live in the weeds of the day to day. But you also don't want to be so high off the ground that you're out of touch and risk not executing your vision.
Let's face it – you got into this business because it's what you wanted to dedicate much of your life to. It's tempting to do the work because you know it so well and you want to make sure things are done right ( ideally the first time.) This is especially hard to resist when it comes to your marketing. Because that's the face of the company. That's your industry reputation. That's your legacy. Despite the fact that your background may be in engineering, finance, operations, etc…and not marketing, you can't help but feel compelled to be closely involved.
But, in order to lead and stay focused on business strategy, you can't spend your time on revolving tactical marketing questions. Deciding whether you should go with a full or half page ad, how to wordsmith your press release headline, what colors your company shirts should be, and what the right photo is for your website home page slider image, likely aren't the best uses of your talents. A huge X factor in all of this is having a strong marketing team that you can trust and rely on (and we'll explore more of that). Still, there is a place for you in your organization's marketing. And an important one. Here are some best practices to help you navigate when to delegate and when not to.
Engage in Thought Leadership
One of the greatest values you can offer to your marketing efforts is to spend time building your reputation as a thought leader. You need to demonstrate to the industry that your organization is made up of true experts in the field. And that you have a unique take, a special edge on where things are headed, resulting in more confidence and interest in what your company is up to. Here are some ways you can build that reputation:
Speak at the most important conferences for your target audiences
Write for your company's blog (bonus points to display your name as the author)
Be a guest on a podcast
Participate in a Q&A interview with a media outlet speaking to a topic you offer expert insight on
Post a take on relevant articles to your personal social media accounts (and, really, share all of the above activity on your personal social media platforms too to amplify that exposure)
Your involvement in thought leadership also has the great side benefit of helping to arm your marketing team with ideas they can explore going forward.
Set the Vision
A clear organizational vision and purpose conveyed to the marketplace allows your company to genuinely align with your current and potential customers. Your marketing team is charged with executing on activities that disseminate this overarching vision. Your job is to give them that vision to communicate.
So, ask yourself – is leadership routinely communicating the organization's purpose and vision to the marketing department? If not, maybe it's time to revisit your approach to that.
Provide Input on Communication Plans and Budgets
A very important time for your involvement in marketing is when your team is developing a Communication Plan. This plan sets the roadmap for your marketing efforts and outlines how that vision gets executed. Be sure to participate in discussions that determine these strategies so that your vision is guiding the direction. You are also the best person to ensure the Communications/Marketing Plan aligns with the organization's business strategy.
Budget is of course an important component of planning out marketing activities. And it has to match business goals. Are you trying to quickly grab market share? Are you launching a new product or trying to tap into a new audience? Does your sales funnel need a turbo boost? Things like this must inform your marketing budget.
As your organization's leader, here are two ways to influence the appropriate spend:
Give a Number: Provide a budget figure that your team needs to work with for the next fiscal year. Ask them to propose how they'd recommend spending it and once you've all agreed to that breakdown, let them manage spend and burn rate accordingly.
Ask for a Tiered Approach: One other way to go about this (and in absence of a figure to start with) is to ask your team for a good/better/best approach to marketing budget/priorities for the year. See what they come up with and go from there.
Both options should include a discussion on how success will be measured so that the team can identify what's working, what isn't, and make needed adjustments.
Once you and your team are aligned on the communication/marketing plan, budget, and ways of measuring results, then you're looking at a great game plan. Let the players play. Asking your team for quarterly updates on progress/success/burn rate is about the right distance to have. If you don't have a plan in place, it's a lot harder to step away.
Trust Your Marketing Team
Yes, you have great ideas. And your own opinions on word choice and design. But try to resist the urge to put on a creative director hat. Let your marketing team do what they do best – marketing. Too often, CEOs spend their time and energy on decisions that should be left to their experts. If you've been involved in the development of the communication plan and have approved the marketing budget, set your team free to execute it.
Feel like you can't do that? Explore the cause. Spend some time considering why your blood pressure goes up when you think about stepping away. Does your team need more training? Do you need to create a new position and hire a more senior marketing exec to lean on?
Sometimes bringing in an outside firm to do a diagnostic exercise and identify what's working/what gaps exist/what opportunities are knocking is a helpful step. This will allow you to identify how to improve your marketing and the team that manages it.
Still, there are some cases when a leader DOES need to be in the weeds – if your organization is too small for a robust marketing team, in startup mode, etc. Or if your marketing team is still learning the ropes and doesn't "get it" yet – get your vision, understand the industry well enough, know how to effectively communicate to customers and prospects. If this sounds familiar, you may need to keep your sleeves rolled up and continue to participate more actively in marketing. Do your best to approach this involvement as a coach to help train and guide your team. This way, in the future they'll be empowered and entrusted to make those calls so you can focus on $50,000+ decisions.
When to Tag Yourself In
Just how far should trust in your marketing team go? When should you tag in and get a little closer to 5,000 ft? Well, if your marketing budget changes or plans need to shift to accommodate new products or a different audience focus – that will certainly require your attention. You'll need to step in to make sure there is alignment with your marketing team on a new direction and revised plan.
If the organization's positioning or messaging is changing, you'll need to be involved. BUT stay focused on providing support on a strategic level. Review plans, not executions. On a daily basis, it's best if you don't need to review that press release, ad, case study, social media post, customer testimonial, etc. If you read that list of tactics and realized your protocols are set up in such a way that requires your eyes on all of those things before they go out, then ask yourself:
What am I sacrificing to give time in the marketing weeds? What other elements of the business could I be diving into instead? What new ideas could emerge in their place?
What is my marketing team sacrificing because I'm too involved? Could they be thinking bigger if they reclaimed that time?
In the end, being a part of the marketing vision and less a part of the execution maximizes your talents and those of your marketing team. You can't (and shouldn't) be involved in all things at all times – or your organization won't have the leadership it deserves.
So, the next time you're catching up with a friend, customer, or colleague and they ask a question about your marketing, imagine you're able to tell them that you have your best people all over that. And they'd have to fill in the details of what all is brewing. Sound nice?