Honey, They Shrunk the Marketing Budget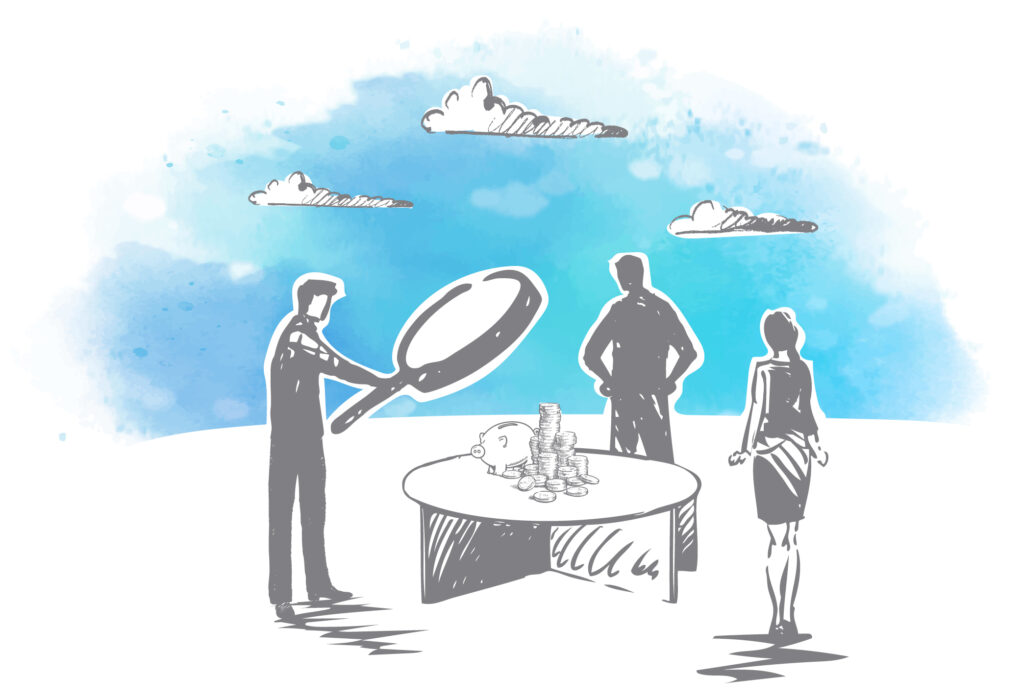 If you're like most companies, you're taking a hard look at your marketing budget and considering some difficult choices in response to the current economy. Typically, boom (expansion) and bust (contraction, or recession) cycles average about five years for an expansion and around one year for a recession. That said, the expansion cycle that lasted from 2009 to February 2020 was the longest ever recorded—and most economists are anticipating a longer than average recession.
It's tempting now to hunker down, cut budgets and simply wait it out. But before you settle into your bunker, consider that this is actually an ideal time to increase your brand value by investing even more in your marketing efforts. Which doesn't necessarily mean spending more. Once the economy recovers—and it will come back—the value you create now will translate into more sales and greater market share.
If you don't believe me, consider this: In the most recent recession, which kicked in around December 2007, the vast majority of companies suffered greatly. McDonald's, though, saw its sales grow in 2008; they even beat sales in both 2006 and 2007. Instead of retrenching and shuttering restaurants, the company opened almost 600 new stores in 2008.
During the Great Recession, McDonald's earnings-per-share grew by 26% in 2008, 8% in 2009, and 16% in 2010. Why? They never stopped improving what they were offering and making sure the world knew about it. In a recent Forbes survey McDonald's was ranked the 10th most valuable brand in the world.
Investing in the Future
The key to making this mind shift is this: See your marketing dollars as an investment rather than an expense. What you're investing in is the future brand value of your company. Increased brand value means that your customers perceive what you're offering to be of higher quality and greater worth. How do customers show that?
They're willing to pay more for your products.
They're staunchly loyal.
They're more open to new products and services.
They're likelier to forgive you if you don't meet their expectations.
When customers who value you have hard choices to make, they're less likely to give you up. And, when the hard times—like, say, a pandemic—are over, the odds are that those customers will come right back to buying from you, their first choice.
Companies that invest in their brand during downturns are essentially buying market share at discounted prices when compared to competitors who don't make those investments.
When they go low, we go high
So how, exactly, do you build greater brand value and increase your market share, especially in a down market?
Start by considering the classic marketing funnel. Top-funnel activities are about building awareness and positioning for your brand, while mid-funnel activities nurture your prospects. Lower-funnel actions aim to convert prospects into customers. Basic marketing stuff.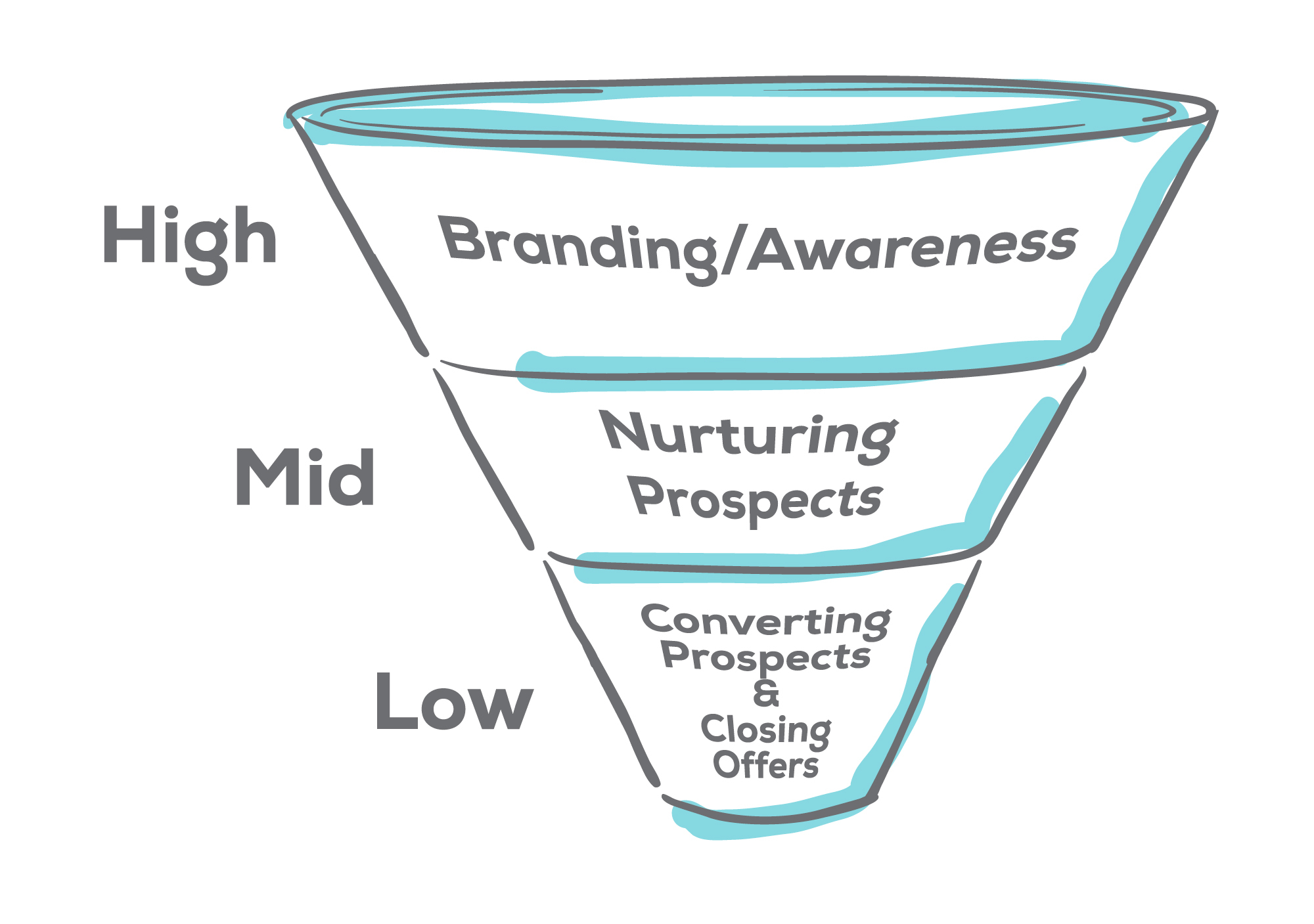 The challenge we all face is how to allocate funding into each area. In the Great Recession, we saw clients shift focus down the funnel, in an effort to drive sales. At the same time, we had other customers who focused on building their brand through thought leadership. We think you can do both, even on a reduced budget, but the type of product/service you offer and your sales cycle have implications.
Because public safety tends to have long sales cycles, prospects for your products may be in the sales funnel for two to three years. Not surprising for products that tend to be expensive, complex and involve specific procurement requirements. That might give you a unique opportunity to focus on top-and mid-level funnel activities. This will build awareness and interest so more prospects will consider your brand.
This is a strategy that can pay huge dividends downstream. Companies whose purchase decisions are by nature longer, or those that are holding off due to budget constraints, will eventually emerge. They have to and what you do in the meantime will make you their first choice—or not.
Mixing up the perfect funnel cocktail
So what's the ideal blend of marketing strategies up and down the funnel that preserves your long-term upside, sharpens lead generation and conversion to prop up near-term sales—and does all that without breaking the bank? Here are some tactics we've seen work:
Invest in thought leadership and branding. During the last recession, we had a client, that provided a subscription-based software solution for EMS and Fire Departments. They had a well-known and respected industry CEO. Our top-of-the-funnel campaigns for this client featured thought leadership content authored and presented by the CEO. We created a nurture campaign focused on compelling content that explained and educated the industry on relevant topics. The content we created was also freely shared, creating lots of goodwill in the industry. By executing these tactics, we helped introduce the company to thousands of prospects and built a robust CRM. Revenue remained steady through the recession, and when the economy rebounded, the company emerged as the leading provider in the market. Once the economy moved into expansion, they achieved double digit annual growth in the subsequent five years. By showing and sharing your expertise, you set yourself apart from the competition and attain mindshare in public safety. You set the stage for your customers to understand that when they're ready to buy, you are the best option.
Give your campaigns time. A June 2019 LinkedIn Marketing Solutions report, "The Long and Short of ROI," made an important distinction between KPIs (key performance indicators) and ROI (return on investment) that too often gets lost. KPIs like cost-per-click are metrics that show the short-term impact of a campaign. ROI, on the other hand, measures how much benefit you're getting for whatever you're investing in: time, money, effort. ROI is a bigger-picture metric and can typically only be understood as an indicator of past performance.
Especially in an economic downturn, marketers feel intense pressure to justify spending. That leads too many to try to "prove" ROI for a campaign in as little as a month—even though the average B2B sales cycle is six months or more. Here's the remedy: Adopt a long-term measurement mindset that follows your sales cycle and clearly defines the difference between ROI and KPIs. Don't jump the gun and measure before you've completed an entire sales cycle.
Shift toward digital marketing. If your mix of traditional and digital marketing usually shakes out at about 50/50, consider doing more on the digital side to save both money and time. Business travel to meet clients or prospects is pretty much off the table for a while. Consider putting more money toward, say, creating and sharing top-shelf content on social media, launching a podcast that showcases your internal expertise, or using search engine optimization to help prospects find you faster. Make sure you're investing in paid search, social and testing promotional offers to stimulate lower-funnel conversions, too.
Make the most of a limited budget. Here are just a few ways to stretch your dollars even further:

Take this time to really hone your brand story.
Create a marketing plan (otherwise, you'll spend more than you planned).
Invest in content, including an email newsletter (if you don't have one) and long-form content.
Interview your customers to understand their needs better and strengthen relationships.
Be a guest speaker at webinars/virtual conferences.
Audit your existing content and make it better.
Repurpose content (e.g., turn blog posts in an e-book or infographics).
Ask for testimonials to use in your marketing.