Hint: you should not be "business distancing"
As someone in a leadership role, you've got a lot on your plate right now. You're balancing ensuring the health and safety of your family and loved ones, leading your organization and employees, and being there for your customers. But some, in times like these, take the opportunity to truly stand out.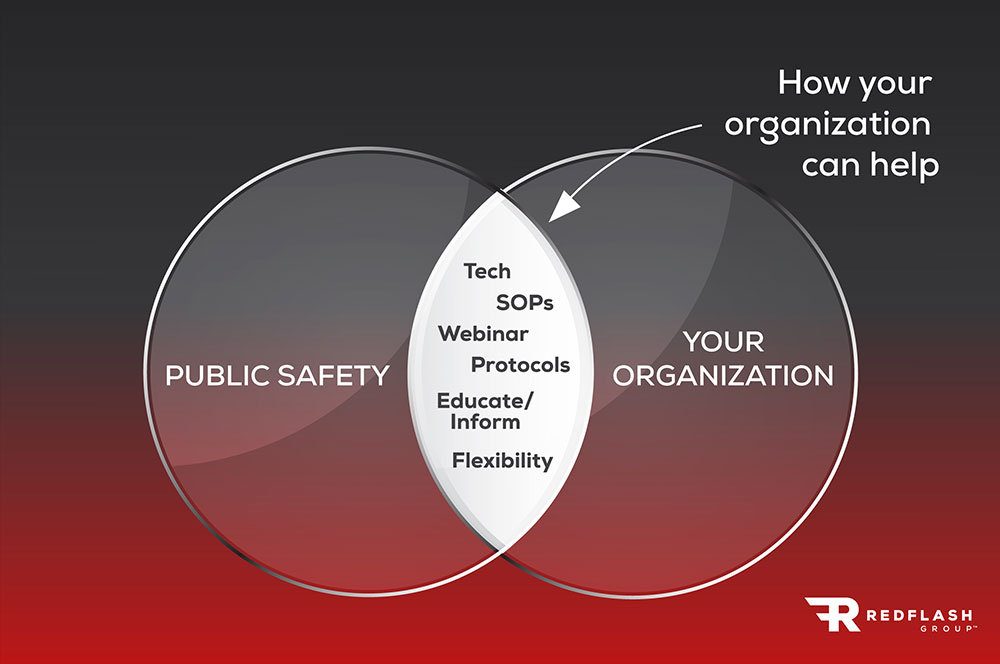 At RedFlash, we have several clients who—early on in the crisis—began finding powerful ways to support public safety agencies and first responders. Those efforts include:
Establishing alerts through CAD systems to identify potential Coronavirus patients and patterns—giving responders advance notice of what they might be encountering so they can prepare and take additional safety precautions.

Turning on free video telemedicine and communication capabilities to connect hospitals, emergency medical services and other health care entities and practitioners—reducing potential exposures and preserving vital protective equipment.

Developing and delivering critical information and updates via relevant documents, SOPs and maxed-out webinars (wisely, these webinars are being recorded and widely distributed).

Getting COVID-19 protocols and guidance in the hands of law enforcement, 911, EMS and fire departments.
How will you help?
What is your organization doing to support your employees and customers during this fast-evolving situation? We know many businesses that serve public safety have first responders among their employees. Giving extra flexibility to those staffers so they can put on their emergency responder hats and help their communities seems like a no-brainer. What else?
Here are a few recommendations:
If you have helpful information or technology, make it available right now to your customers and beyond.

Educate and inform. Save your sales technique for when we're out of the crisis.

Be flexible—that could mean reducing paperwork or helping with payment terms.

Remember that your customers and potential customers need to focus on Job One right now. They likely need your innovative tools, technology or service. But maybe your next conversation can be something like: "Tell me what I can do to help you right now…we can get back to the demo we were planning after the crisis."
True, these actions may not mean a financial return in the short-term. But keep in mind that folks in public safety have long memories—they know who was there for them in the toughest of times.
Taking care of your organization
In the midst of all of this, you're responsible for ensuring the ongoing success of your organization, too. You need to make prudent choices so your business can make it through this crisis and a potentially drawn-out downturn. For example, experts point to the need to be especially cautious about borrowing money during difficult economic times. The organizations that are able to tighten their belts while making strategic investments will be better positioned to survive and thrive.

After all, public safety needs you. Now and for the long haul.