Finding high-tech solutions to common challenges facing firefighters, EMS, 911 and law-enforcement is the main goal of the National Institute of Standards and Technology (NIST) Public Safety Communications Research (PSCR) Program. To develop innovative solutions, NIST knew it would need to find a way to connect technologists and public safety professionals.
Most technologists are not familiar with the public safety realm, and building high-tech solutions is not a specialty of most public safety professionals. To bring these unique groups together, with the goal of developing technology to keep communities safer, PSCR developed a nationwide code-a-thon event. 
The competition, offering monetary prizes, would pit technology teams against one another, leveraging public safety professionals as subject matter expert resources. But PSCR knew it needed help developing a complete branding and marketing approach and finding organizational supporters. PSCR turned to the RedFlash Group, an agency specializing in public safety marketing with a roster of tech clients and deep industry connections. And we contracted SecondMuse, experts at running code-a-thons, to partner with us in tackling development of the events.
RedFlash welcomed the challenge of standing up this project, and immediately got to work on branding. The name of the event would need to resonate with both technologists and public safety professionals, so the company employed its naming process, interviewing each group before arriving at the "Tech to Protect Challenge." Feedback from interviewees was positive, saying that it incorporated both disciplines in a memorable way.
To accompany the name, RedFlash developed a new logo incorporating easily recognizable public safety elements—the flame, the shield and the star of life representing fire, law enforcement and EMS. Focus groups from each constituency found it modern and engaging.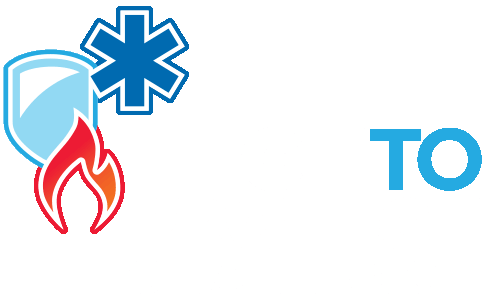 In addition, RedFlash offered an entire suite of materials to support the name, brand,and outreach efforts, from videos and websites to T-shirts and movie-premier style backgrounds to support branded social media photo posting by participants. Because the competitions were hosted across 10 locations and eight weeks, the RedFlash team would also provide geotargeted social media and storytelling content to highlight the first event, boosting participation for the second.
RedFlash collaborated with the top organizational supporter–FirstNet Built with AT&T–who would eventually make the completed projects accessible to first responders through the FirstNet app catalog. In addition, the RedFlash team brought in a variety of public safety supporters including Amazon Web Services (AWS), Microsoft, IBM and Motorola Solutions.
RedFlash's outreach activities helped secure more than 800 event registrants interested in creating new technologies for public safety. One snapshot of outreach success: across just 10 days leading up to the in-person events, organic and paid social media efforts resulted in more than 300,000 impressions and nearly 225,000 promotional video views. 
The Tech to Protect Challenge matched dozens of techies and entrepreneurs with public safety professionals to talk, share and fine-tune new solutions across technical areas, like proactive image protection, hands-free device control and tracking patient triage. The result was the successful start of transformative solutions that will improve the safety of first responders and communities nationwide.
Diverse Stakeholders: Hosts and Sponsors
To acquire Tech to Protect hosts and supporting organizations, RedFlash created engagement toolkits tailored to each group, then tapped into its vast number of industry connections to secure support and generate excitement. 
Coding event hosts—including universities and coding academies—drew competitors to the challenge, and the customized promotional materials helped get the word out about the code-a-thon opportunity and the entities supporting it.
RedFlash worked with supporting organizations to implement a promotional campaign through a toolkit that included customizable social posts, digital ads and geotargeting across public safety channels.